Himachal Pradesh is a state of India that resides in the lap of gods, mountains, and Himalayas. The people of Himachal Pradesh are called Pahari. Himachalis are usually simple people. And the most commonly spoken language of the Himachali people is Hindi and Pahari. The whole state is punctuated with stone as well wooden temples.
All Information About Himachal Pradesh
Himachal Pradesh has beautiful temples built with marvelous architecture. The hottest place in Himachal Pradesh is Chamba and the coldest place in Himachal Pradesh is Lahaul and Spiti. Himachal Pradesh is also known as heaven because of its heartwarming views. The main occupation of the people of Himachal Pradesh is Agriculture and has an important place in the economy of the state. The peoples of Himachal Pradesh are very sensitive and hardworking. Most of the farmers work daily in the fields to earn money. The main and famous fruit of Himachal Pradesh is Apple. "The snow leopard" is the state animal of Himachal Pradesh, "Deodar cedar" is the state tree of Himachal Pradesh, and "The Bird Jujurana" is the state bird of Himachal Pradesh.
Brief History of Himachal Pradesh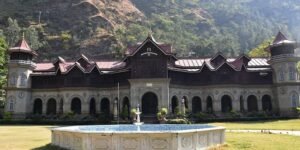 The old name of Himachal Pradesh was Trigarta. that is because the state lay in the foothills drained by three rivers: Satluj, Beas, and Ravi. Thereafter it was named Himachal Pradesh by one of the greatest Sanskrit scholars Late Acharya Diwakar Datt Sharma and the name was derived from two Sanskrit words, HIMA and ACHALA, HIMA means 'Snow' and ACHALA means 'Mountains', meaning 'Snowy-mountains'. Himachal Pradesh is also called as 'Devbhoomi' which means 'the adobe of the Gods'. In the early period, tribes like the Koilis, Halis, Dagis, Dhaugris, Dasa, Khasas, Kinnars, and Kirats inhabited it. Himachal Pradesh was founded by Dr. Yashwant Singh Parmar, who was a great freedom fighter and social reformer. He was born on 4 Aug 1906 in Chanalag village, in the princely state of Sirmaur. He was the first Chief Minister of Himachal Pradesh. Himachal became a part C state in 1951 with the implementation of the Constitution of India. Thereafter Himachal Pradesh became a Union Territory on 1 November 1956. In 1970 the state of Himachal Pradesh Act was passed by Parliament and in 1971 Himachal Pradesh becomes the state of India.
Most Famous in Himachal Pradesh
Here are some of the most famous places in Himachal Pradesh that are must visit.
Shimla:- Shimla is the Capital of Himachal Pradesh. It is one of the most popular hill stations in Northern India. Shimla is a major attraction of Himachal Pradesh because of its cool weather and beautiful view. Shimla is also known as the Queen of Himachal Pradesh.
Kullu-Manali: Kullu Manali is one of the best places that are must visit in Himachal Pradesh. If you want to get some fresh air and a view of green mountains covered with snow, then Kullu-Manali should have to be on top of your list.
Dharmashala:- The residence of Dalai Lama. Dharamshala is famous because of its climate. Dharamshala has to be on your list to visit once in a lifetime.
Kasauli:- Kasauli( A Gateway to Himachal). The best time to visit this place is in June. The monsoon enlightens the true beauty of this place.
Bir Billing:- If you are an adventure seeker, then definitely this place is for you. Bir billing is the mecca for adventure sports and it has to be on top of your list. Bir billing is a small village that is blessed with a refreshing climate.
Malana:- Malana is a small village that resides in the Kullu district. A place to get your spirit high. If you are Looking for a digital detox, then Malana is the place you must visit in Himachal Pradesh in August.
Khajjiar:- Khajjiar is the mini Switzerland of India. It is a small hill station in the northern state of Himachal Pradesh. This is definitely a must-visit place to explore the beauty of this mesmerizing place.
Spiti-Kaza-Tabo:- Spiti is one of the most attractive hidden gems of Himachal Pradesh. Spiti is famous for its natural beauty and cultural heritage. Monsertry in Kaza is also an attraction for tourists. An Offbeat Destinations For Avid Travelers.
Kasol: Also known as the Mini Israel Of India in Himachal Pradesh and it is because of the high percentage of Israeli tourists. Kasol is located in the Kullu district and is famous for its kheerganga trek.
Kinnaur:- Kinnaur has known for its apples, beautiful views, and some adventurous roads. Kinnaur is also known as the land of gods. It is 235 Km away from Shimla.
Kufri:- Every snow lover's favorite destination in Himachal Pradesh. Kufri is one of the coldest places in Himachal Pradesh. So due to its higher altitude, it snows a lot here. So if you are also a snow lover then this place has to be on your bucket list.
Chail:- Chail is a paradise lying close to Shimla, Chail is known for its World's Highest Cricket ground and for Kali Maa Temple which is a beautiful temple located at the peak of a mountain in chail. This should have to be on your list.
Chitkul:- The last village of India. This beautiful village lies in the Kinnaur district, if you want peace with nature then this place is for you. There is also a "Hindustan ka aakhri dhaaba". So if you ever go to that place don't forget to take a snap with that board.
Solang Valley:- If you are thinking of having a vacation in Manali, then definitely add this place to your list. Solang valley is for all the adventurous freaks who love skydiving, paragliding, horse riding, etc. And during winters the Solang valley is covered with snow. Skiing is a popular sport here with trainers. So, if you don't know how to skiing then don't worry you'll get trained.
Sarahan: Sarahan is famour for BhimaKali Mata Temple. A beautiful place located in the Shimla district, near Rampur Bushahr. If you are a pilgrim then this place is must visit for you.
Lahaul Vallery: Lahaul valley is one of the most surreal tourist places in Himachal Pradesh. Lahaul Spiti is a place with pollution-free air, null vegetation, and blue skies. If you want to capture the finest beauty of nature, and want to enjoy peace, then this place is for you.
Paonta Sahib:- This is one of the most pious tourist places in Himachal Pradesh, which is located in the Sirmaur district. The main attraction of this place is Gurudwara Paonta Sahib which is located on the Yamuna River Banks.
Sangla Vallery: Sangla valley is a beautiful valley in Himachal Pradesh. It is one of the famous places in Himachal Pradesh. Sangla valley is covered with evergreen forests and with snowy mountains and pure air. So this, the place should have to be on your list.
Tattapani: A village with hot springs. This village is 60 km away from Shimla which is known for its hot water spring and shiva's cave. The famous tales of miracles in shiva's cave attract tourists more. So if you want to have a bath in this hot spring, this is a must-visit place for you.
Kalpa: The beautiful and the main village of Kinnaur, which is known for its beauty, evergreen forests, beautiful monasteries, and sacred temples. This village is surrounded by kinner Kailash range. So if you want to experience beautiful views with peace that this place has to be on your list.
Nahan: Nahan is a hill station with a beautiful landscape that lies in the Sirmaur district. The main attraction of Nahan is Shivaji temple, Renuka ji Lake, and Kalishthan Temple.
Districts of Himachal Pradesh
Himachal Pradesh has 12 districts: Bilaspur, Chamba, Hamirpur, Kangra, Kinnaur, Kullu, Lahaul-Spiti, Mandi, Shimla, Sirmaur, Solan, and Una.
Geography of Himachal Pradesh
Himachal Pradesh is a mountainous state located in the North-west of India, which shares an international boundary with China. It extends from the latitudes 30°22'40" North to 33°12'40" North and longitudes 75°45′ 55″ East to 79°04′ 20″ East. The altitude in Himachal Pradesh ranges from 350m to 6975 meters above the main sea level. It is surrounded by Jammu and Kashmir in the North, Tibet in the North East, Uttarakhand in the southeast, Haryana in the South, and Punjab in South West. It covers a large geographical area of 55673 sq. km. Area wise Lahaul and Spiti is the largest district of Himachal Pradesh and the smallest district is Hamirpur. The average rainfall in Himachal is 1469mm. There are four ranges in Himachal Pradesh including The Shivaliks(The Outer Himalayas ), The lesser Himalayas (Central Zone), The Great Himalayas (Northern zone), The Zanskar(Shilla Peak in Kinnaur).
The Economy of Himachal Pradesh
The main source of state income is highly dependent on agriculture, tour & travel, and hydroelectric power plants. We can say that Economically Himachal Pradesh is one of the most important states in India. The main source of the people of Himachal Pradesh is agriculture. The most precious fruit which plays the most important role in economic wealth is the apple. Himachal Pradesh is also known as the apple state of India because of its large production of apples and it is the country's largest producer of apples. So, apples play a major role in the economical growth of Himachal Pradesh.
And also hydroelectric power plants are the key engine for the economic growth of the state( Himachal Pradesh), there are almost 30+ hydroelectric power plants in Himachal, and HPSEB (Himachal Pradesh State Electricity Board) shares electricity with other states, by which it becomes the great source of income for the state. Himachal also produces mineral resources which include rock salt, limestone, gypsum, and silica sand. Tour & Travels also plays an important role in the economical growth of Himachal Pradesh. Tourism in Himachal Pradesh is rapidly growing. According to a report, every 2.5 seconds a new tourist visits Himachal. Himachal Pradesh is considered one of the top tourist/pilgrim destinations of the country. So tours and travels help a lot in the growth of the state economy.
Rivers of Himachal Pradesh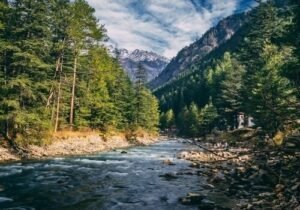 5 Major river basins in Himachal Pradesh are Satluj, Ravi, Yamuna, Beas, and Chenab.
1- Satluj: Satluj is the longest of all the other five rivers. It enters Himachal at shipki and flows through Kinnaur, Shimla, Kullu, mandi, and Bilaspur districts.
2- Ravi: Ravi river originates in Multan tehsil in the Kangra district of Himachal Pradesh.
3- Yamuna: The river Yamuna has its origin in Yamunotri in the Uttarkashi district of Uttrakhand. Yamuna river enters in Himachal Pradesh at khadar Maji in Sirmaur district.
4- Beas: Beas river is located in Kullu valley and it is popular for its camping spots and adventure activities. The origin of beas river is rohtang La .
5- Chenab: Chenab river is the largest river of Himachal Pradesh. The origin of the Chenab river is baralacha La pass.
Education of Himachal Pradesh
There are over 10,000 primary schools, 1,000 secondary schools, and more than 1,300 high schools in Himachal. Himachal Pradesh has highly-ranked universities like HPU Shimla, HPTU, and AIIMS Bilaspur. There are other highly ranked universities in Himachal Pradesh like Shoolni university Solan, Jaypee University of Information and technology Waknaghat Solan, Bahra University Shimla Hills, APG University Shimla, Dr. Yashwant Singh Parmar University of Horticulture & Forestry Nauni Solan, Manav Bharti Kumarhatti Solan, National Institute of Hamirpur, IIT (Indian Institute of Technology) Mandi, Central University of Himachal Pradesh Dharamshala, MMU (Maharishi Markandeshwar University) Solan, that are holding a good rank all over India.
Food of Himachal Pradesh
The traditional food of Himachal Pradesh:-
1- Dhaam:-
Dhaam is like a complete meal, it is more like what you call thali in some other states. Dhaam has the most delicious foods, including dessert in it. This delicious cuisine of Himachal Pradesh is savored by locals on some occasions like marriage, festivals, and some other occasions. Dhaam is cooked by the people of the village. Every state has different dishes on its Dhaam. Dhaam is a special food of Himachal Pradesh that not only tastes good but is also full of nutrients.
2- Siddu:-
Siddu is one of the most lovable foods of Himachal Pradesh. It is made from wheat flour with stuff inside it like dry fruits, daal, etc. In the food culture of Himachal Pradesh, siddu is one dish that is not only tricky but also time-consuming to prepare. But after you taste the siddu, the efforts are worth it.
3- Malpua:-
Malpua is also famous in Himachal Pradesh. It is made up of gudd( गुड़ ) which increases its taste. It is sweet in taste. It becomes more delicious if you eat it with chutney ( a sauce or relish of East Indian origin ). Then it becomes a combination of sweet and sour.
4- Madra:-
Madra is one of the popular food of Himachal Pradesh. it is made from soaked chickpeas and vegetables. and this dish gets its delicious taste from various species such as cumin seeds, cloves, black pepper, cardamoms, turmeric powder, and coriander powder. Madra is a lovable food for all ages of people. So next time you come to Himachal Pradesh make sure you don't give this dish a miss.
5- Mittha: –
mittha is also a lovable dish for all ages of people. It is served right after the meal/dhaam. As we know a meal is incomplete without a dessert. So this Himachali mittha completes your meal with its delicious taste. This tastes so heavenly that it will leave you craving for more.
Fairs of Himachal Pradesh: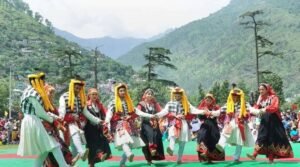 1- Lavi Mela: This fair is held in the month of November from 11 to 14. Lavi mela is officially known as the international Lavi fair held in Rampur Bushehr in the Shimla district. Lavi mela is fundamentally a trade fair. The main attraction of this fair is the cultural night held from 11 Nov to 14 Nov every night. It is considered the oldest fair of Himachal Pradesh.
2- Kullu Dussehra: Kullu Dussehra Mela is also an international fair held in the month of October, over 4 to 5 lakh peoples come from all across the Globe. This fair is celebrated in the Dhalpur maidan in Kullu valley.
3 – Minjar fair: Minjar fair or Minjar mela is held in the month of august on the second Saturday. Minjar fair is celebrated in the Chamba district. Minjar Mela is a week-long carnival. You can listen to the soulful and traditional kunjari malhar, which is sung by local artists.
4 – Naina Devi Fair: Naina devi fair is held in the month of august at Naina devi Temple which is located in the Bilaspur district.
5 – Shivaratri Fair: Shivratri fair is held in the month of February or march on the day of Maha Shivratri in the Mandi Distt. On this day people bring hundreds of gods/goddesses in their raths. This fair continues for weeks and longer than a week.
6 – Holi Fair: Holi fair is held in the month of march every year. But the Holi fair of Sujanpur in Hamirpur Distt is very famous. As we all know it is a festival of colors. Peoples from different states come to participate in it.
7 – Shoolni mela: Shoolni Fair/ Shoolni mela is a festival mela held for three days in the month of June, shoolni maa is reckoned as the powerful Goddess in the area. It is believed that at this time of the year Goddess Shoolini goes to see her elder sister Goddess Durga at the Durga mata temple situated in Ganj bazaar of solan. Shoolni mata stays with her sister for three days and then returns back to her own abode.
8 – Winter Carnival: Winter Carnival is a five-day long national-level Winter carnival that is held in Manali. The main attraction of the winter carnival is cultural tableaus, Local cuisines, the voice of carnival, folk dance, fashion shows, magic shows, western dances, etc.
9- Renuka Ji Mela: Renuka Fari/ Renuka mela is one of the popular fairs of Himachal Pradesh. Renuka Ji mela is held on the banks of the famous Renuka Ji lake situated in the Sirmaur district. Renuka is the mother of Lord Parshurama and it is believed that on this day Lord Parshrama and Goddess Renuka Ji have a reunion once in a year. It is celebrated in the month of November.
Costumes of Himachal Pradesh
Pahadi Topi/ Himachali Caps and Dhaatu are considered pride in Himachal Pradesh. Himachali Caps and dhattu are representations of our cultural identity. Men in almost hilly areas wear kurta pajamas with Himachali caps and women wear salwar with kameez and Duppata(Dhattu), Reshta(Reshta with dhaatu and sadri) on the occasion of festivals or marriage, etc. In Kinnaur women wears a woolen saree (Dhori), with a green full-sleeve blouse (Choli) on top. And then they wrap a colorful shawl (Chhanli) around the shoulders, its two ends fastened by a silver hook (Digra). Saari is the most common traditional garment that women wear in Himachal Pradesh.