Kullu is a municipality and the administrative headquarters city of the Kullu district. Kullu is situated on the banks of river Beas and is about 10 km from Bhuntar airport. Kullu Known as the 'Valley of the Gods', Kullu is a cluster of beautiful valleys in Himachal Pradesh. Manali, situated on the banks of Kullu, is a favorite hill station for tourists and especially honeymooners. The picturesque scenery and snow-capped mountains, tall pine forests, rivers, and apple orchards have attracted many feature filmmakers to Kullu Himachal Pradesh.
About Kullu Himachal Pradesh
If anybody is interested in the history of Kullu Himachal Pradesh then you can read it on this website. The Kullu Valley is a wide open valley formed by the Beas River between Manali and Larji. Trekking, watercourse rafting, climbing, paragliding, and hiking on the Chain Glacier Area Unit are some of the many activities offered by Kullu. Sportfishing is another activity. Trekking can be done around Beas Kund area, Hanuman Tibba, and Dev Tibba, Kullu Himachal Pradesh. The valley is known for its temples and hills covered with pine and deodar forests and vast apple orchards. The course of the Beas River originating from the Beas Kund is very spectacular, surrounded by deodar forests, deodar trees, and snow-capped mountains which makes it even more beautiful.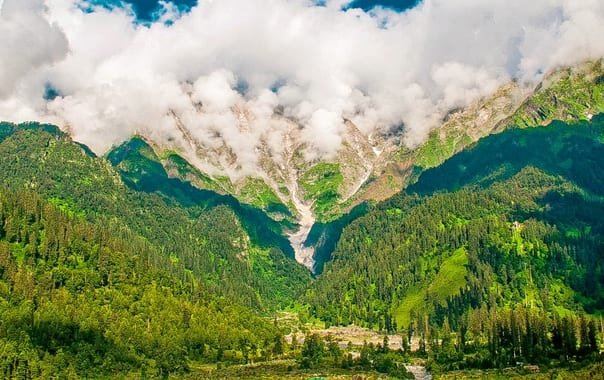 Area (km2): 5503
Population (2011): 437903
Tehsils: Kullu, Nirmand, Banjar, Manali
Languages: Kullui language, Himachali including Kanashi, Hindi
Rivers: Beas
The language is spoken: People here speak Kullui language. The local people speak Pahari. And the rest of the Hindi and English language is spoken.
Travel Destinations:
Bijli Mahadev Temple, Naggar, Manikaran, Great Himalayan National Park, Dhakpo Shedrupling Monastery, Manali, Nehru Kund, Solang Valley, Kullu Valley, Hidimba Devi Temple, Gauri-Shankar Temple, Tripura Sundari Devi Temple, Murli Dhar Krishna Temple, Goddess Sarvali Temple, Shiva Temple, Gayatri Devi Temple, Vashishtha Muni Temple, Arjun Cave, etc.
Culture of Kullu
Almost all big and small local festivals and fairs take place throughout the year and the most famous is the local Dussehra festival. This lasts for a week. 200 local deities from all over Kullu are believed to have paid homage to Lord Raghunath, making it a festival in which almost the entire district participates.
Demographics – As of the 2011 India census, Kullu had a population of 437,903. In Kullu, the male population is 225,452 while the female population is 212,451. Kullu has an average literacy rate of 79.40%. Festivals:
Climate and Geography:
The average elevation of Kullu city is 1,278 meters. Bijli Mahadev Ridge is very famous in Kullu, this valley is very important for the people here. Beyond the ridge, the Manikaran Valley is also visible on the banks of the Parvati River. Some of the rare animals found in Rohtang Pass and other valleys include Himalayan tahr, western tragopan, monal, Himalayan brown bear, and snow leopard. The Great Himalayan National Park (GHNP) is also located here.
The temperature in Kullu Valley in summer is around 20 to 30 °C and in winter the minimum temperature in December and January is -4 to 20 °C. The higher reaches receive heavy snowfall and the main city receives very light snowfall. The monthly rainfall is about 150 mm. The weather is pleasant in October and November and it is thronged with tourists.
How to Reach:
By Road: Kullu National Highway has private buses as well as government, Himachal Pradesh Tourism, and Himachal Pradesh Road Transport Corporation buses plying on the route daily.
Air: Bhuntar Airport which is 10 km from main Kullu city.
Train: The nearest railway station is Joginder Nagar.