Himachal Pradesh is located in the northern part of India at the foothills of the Himalayas. Besides being home to popular hill stations, Most of the Himachal Hill stations are enchanting tourist places like Kullu-Manali, Shimla, Dalhousie, Kinnaur, Kasol, Bir and Mcleodganj. They are a favorite haunt for honeymooners, trekkers, wildlife enthusiasts, adventure freaks and casual holiday seekers and attract scores of people from across the country to escape those unbearable mounting temperatures of the plains during peak summer months. Summers are also the time when Himachal Hill Stations organize various fairs and festivals to provide their visitors a deep insight into the state's diverse cultures and traditions.
Hill Stations in Himachal Pradesh:
Top Best Hill Stations In Himachal To Experience Pure Bliss In 2019, Then all you need right now is a list of best hill stations in Himachal.
Lahaul and Spiti:
Located in the Indian state of Himachal Pradesh, this spectacular valley houses some of the ancient monasteries and natural wonders. Earlier there were two separate districts of Lahaul and Spiti. But, presently, Keylong in Lahaul is the administrative headquarter. One can come to this place from Manali hiring some private vehicles. The district of Lahaul-Spiti is a cold desert area as it hardly gets any rain. So places to visit in Lahaul-Spiti have a unique terrain that is exciting and adventurous. The stunningly beautiful and serene monasteries and gompas of the valley reflect a strong Tibetan culture, and the small hamlets, winding rivers and surrounding snow ranges contribute to form a rich and attractive topography. During winter months the roads to Lahaul remain completely frozen and blocked making it difficult to travel.
Tourist attractions in Lahaul and Spiti: Tabo Monastery, Ki Gompa, Kaza, Kibber, Chandratal Lake, Kunzum Pass, Dhankar Gompa, and Pin Valley National Park.
Best time to visit in Lahaul: May to September
Mcleodganj – Land of His Holiness the Dalai Lama
Mcleodganj is a hill station near Dharamshala, popular among trekkers. Its culture is a beautiful blend of Tibetan with some British influence. Snuggled in the Shivaliks, Mcleodganj is one of its kind destinations. Vibrant monasteries, stunning backdrop, quaint cafes, and thrilling adventure activities have made it one of the favorite summer holiday destinations in India.
Best time to visit in Mcleodganj: March to June
Manali – India's Honeymoon capital
Manali is a popular backpacking and honeymoon destination in India's northern state of Himachal Pradesh. It's ideal for spending time in the great outdoors, and many of these places to visit in Manali reflect the numerous activities that can be done in the area.
Tourist attractions in Manali: Hadimba Temple, Rohtang Pass, Beas River, Tibetan Monasteries, Vashisht Hot Water Springs, Nehru Kund, Solang Valley, Gulaba, Mall Road, etc
Best time to visit in Manali: Manali has a certain charm throughout the year. summer season from March to June, Manali in Winter (September – February)
Prashar Lake – Mandi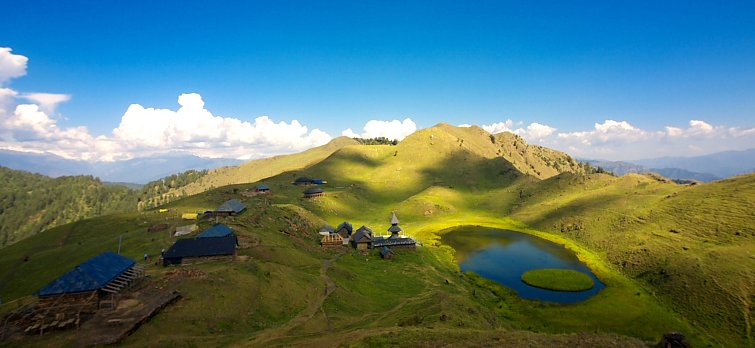 Prashar Lake is located at a distance of about 55 kilometers from Mandi. The route will be Mandi – Bijani – Kamand – Baggi – Prashar Lake. Condition of this road will heavily depend on your time of travel but it will be just about average at its best. Prashar Lake Trek is one of the famous trek routes in this region. If you were visiting here during monsoon, then even this stretch will have several bad sections full of slush. It is a narrow winding road and the entire drive is really steep climb all the way till the top. I will strongly advise going slow and carefully as the traffic here is two ways. Since not many vehicles travel on this route often, locals tend to speed up especially while going downhill. Even though the distance is only 50 odd kilometers, getting to Prashar Lake from Mandi will easily take you about 2.5 to 3 hours. More Info.
Best Time to Visit Prashar Lake: September to December
Prashar Lake Trek Route:
Baggi – Prashar :
8 KmsTrek Time: 5 Hours
Level: Beginner, Intermediate
Dalhousie – Mini Switzerland of India
Dalhousie is one of the most famous hill stations in Himachal Pradesh and every year, thousands of people throng here for a summer retreat. This ideal holiday destination offers one to enjoy boating at Chamera lake, hike up at the Kalatop wildlife sanctuary, pay respect at Chamunda Devi Temple and many more things one would love to do.
Here are some of the best places to visit in Dalhousie: Khajjiar, Chamera Lake, Panchpula, Dainkund Peak, Satdhara Falls, St. Patrick's Church, Sach Pass, Laxmi Narayan Temple, Bara Pather, Tibetan Market, Ganji Pahari, Rang Mahal, and Kalatop Wildlife Sanctuary.
Best time to visit: A year-round destination, Dalhousie has something to offer you in every season.
Barog – Beautiful Hill Stations, Shimla-Kalka highway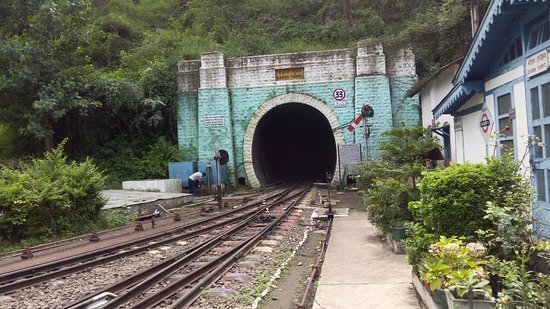 Barog, once a stopover on the Kalka – Shimla highway, is now a full-fledged hill station. Situated in Solan district of Himachal Pradesh, the place is at an altitude of 1680 meters Like the other hill stations in Himachal Pradesh, the place is surrounded with blue mountains, beautiful skies and a verdant growth of pines and a healthy breeze to go along with it. A haven for adventure tourism and for trekking, Barog is on a steep rise on the Shimla- Kalka highway.
HISTORY – In 1903, the British had entrusted an engineer, the construction of the Shimla- Kalka railway route. The engineer named Barog had come upon building a tunnel and he supervised the digging of the tunnel from both sides at the same time. Unfortunately, the ends from both sides of the tunnel did not meet and he was fined a sum of Re.1.00 by the British Government. Unable to bear the humiliation, he committed suicide. His body was buried in the unused tunnel. The station that came up came to be known as Barog railway station. However, another tunnel was built by the then Chief Engineer of the Railways, H. S. Harrington and is said to be the longest operational tunnel out of the 102 tunnels on the Shimla-Kalka route. The length of the tunnel is 1143 meters. The train takes 2.5 minutes to cross this tunnel. For More Info: 
Places to Interest: Barog Railway station, Dagshal, Solan, Dolanji Bon Monastery, Solan Brewery, Jatoli, Choor Chandni, etc
Best Time To Visit Barog: You can visit Barog anytime round the year.
Chail – Solan
Another one in all the must-visit places in Himachal throughout summer vacations is that the stunning hill station of Chail, based by the prince of Patiala Bhupinder Singh in 1893 as his summer capital. Chail is a picturesque hill-station which offers an opportunity to relax and spend some time close to nature. Chail is a very famous place in Himachal Pradesh. The Chail Palace is well known for its architecture, the palace was built as a summer retreat by the Maharaja of Patiala during the British Raj. Chail is connected with Solan as well as with Shimla District Headquarter. It is 49 km from Shimla and 38 Kms from solan.
Best Places to visit in Chail: Kali ka Tibba, Cricket Ground, Chail Wildlife Sanctuary, Gurudwara Sahib and many more.
Best time to visit Chail: Chail has a certain charm throughout the year.
Manimahesh Lake: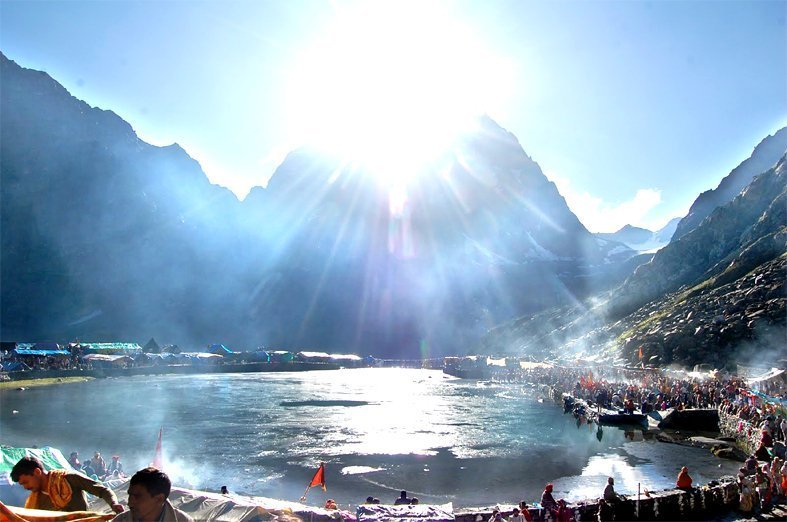 The Manimahesh Lake is situated Twenty-six kilometers from Bharmour in the Budhil valley, one of the chief pilgrimage spots in Himachal Pradesh. Nestled at an elevation of 4,080 meters, it is considered only second in significance to the Lake Mansarovar in Tibet. Manimahesh literally means "Shiva's jewels". Thousands of Hindu pilgrims complete the trek to the sacred Lake during the Manimahesh Yatra every year. Prior to the main yatra in late August or September, a fair is held in Bharmour with folk dances and the celebrations attended by the villagers and other pilgrims.
Tourist attractions in Manimahesh Lake: Sidh Baba Temple, Marali Mata, Kelang Wazir, Bharmour, Chamba HP
Best time to visit in Manimahesh Lake: August to September
Sangla Valley – Kinnaur
One of the most charming valleys in the whole Kinnaur District, Sangla Valley is a perfect getaway from the hustle bustle of the swarming cities. It is named after a beautiful village by the same name. One such place that I want to talk about in this article is the beautiful Sangla Valley; a place hidden in remote hills of Himachal, way too scenic and never crowded. In short, perfect for someone who wants to visit an off-beat destination where they could spend some in peace and away from the crowd. The biggest activity to do in Sangla is to enjoy the scenic beauty around you and relax. The peace and silence you will find here are like none other. Enjoy undisturbed walks while enjoying the flora and fauna of the valley If you are into trekking, then there are numerous trekking trails from Sangla to neighboring valleys; like Jalandrigad valley via Lamkhaga pass, Har ki dun valley via Borasu pass, Sangla to Netwar via Rupin pass and Pabbar valley via Buran pass. Yam ring la pass & Gugairang La are the two passes situated on Indo-China border.
Things to do in Sangla Valley: Camping, Walks, Adventure activities, Treks, There is a monastery close by which you can visit. The Kamru Fort is over 800 years old. It houses the famous Kamakshi Devi Temple.
Best time to visit Sangla Valley: September to August
Kufri – Shimla
Kufri is a small hill station in Shimla district of Himachal Pradesh state in India. It is located 20 km from the state capital Shimla on the National Highway No.22. Adventure-seeking travelers throng Kufri in winters to enjoy skiing and tobogganing along its snow-covered slopes. If you are a sports enthusiast, you can plan your holiday in winter months when the snow is suitable for skiing. One of the most interesting things to do on your winter visit to Kufri is a yak ride. Throughout the yak ride, you can treat your eyes with the most impeccable views and capture some attractive images for the way back home.
Tourists Attractions: There are a number of picnic spots, hiking and trekking trails in and around Kufri. The other places to visit in Kufri are the Himalayan Nature Park, which has a collection of animals and birds found only in Himachal Pradesh, and the Indira Tourist Park.
Best time to visit Kufri: April and June, one may also the place between December and February to enjoy snowfall and skiing.
Kasauli – Solan
Kasauli Located on the way from Chandigarh to Shimla, Kasauli is a beautiful little hill town located in the Solan district of Himachal Pradesh. The cantonment town, established during British Era, is now a favorite destination for weekend trips and small retreats. As one rides in local trains, or stroll with their beau in the lanes, take a trek to the high peaks around or party in the night bar; Kasauli has a happening for all types of travelers, be it adventurous or peace seeker.
Places To Visit In Kasauli: Timber Trail, Monkey point, Sunset point, and Lover's Lane, Mall Road Kasauli and Gurudwara Shri Guru Nanakji. Things To Do In Kasauli: Trekking Tours, Gurkha Fort, Christ Church, etc.
Best Time To Visit Kasauli: Monsoon is the best season to visit Kasauli. During the months of July, August, and September, tourists flock-in in large numbers to try some adventurous activities to do in Kasauli.
Kasol – Kullu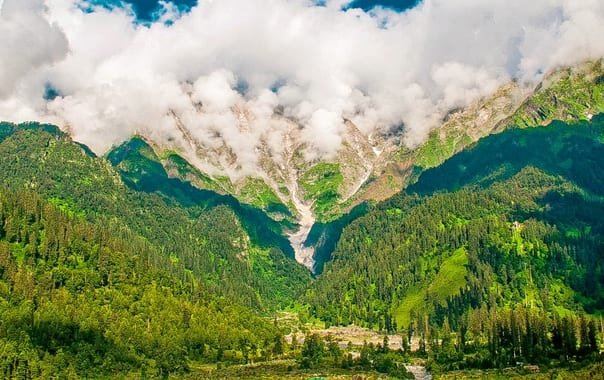 At a distance of 38 km from Kullu, 30 km from Bhuntar, 4 km from Manikaran and 76 km from Manali, Kasol is a small village in Parvati Valley of Kullu district and is situated at an altitude of 1640 m above the sea level. Kasol is a picturesque village with traditional wooden houses having slanted stone roofs. It is also the base for several popular trekking trails in Himachal state. There are abundant treks and mini hikes that take you to tremendously beautiful villages. Not all of them are clustered with luxury stays and world cuisine restaurants, but you'll be surprised with the warm hospitality of the villagers and locals in the Old and the New Kasol, separated by a small bridge.
May June is the best time to visit Kasol for overnight parties, music festivals, and rave parties.
Places To Visit In Kasol: Kheerganga, Chalal, Pin Parvati Pass Trek, Malana, Tosh, Rasol, Manikaran Sahib, Bhuntar, Pulga Village, Naggar Village.
Rohtang Pass – Manali
Rohtang Pass – This picturesque pass is located around 51 km away from Manali, at a height of 3980 meters, on Manali Keylong highway. This mountain slope is so beautiful that people from every corner of the country visit this place to take part in adventure sports such as skiing, ice-skating, paragliding, etc. Adventurers and biking enthusiasts reach Rohtang pass from Manali braving slippery roads, their dangerous curves, and sometimes extremely rough weather. The reward for this effort is being greeted by snow-capped mountains, breathing in the fresh mountain air, and experiencing the thrill of a challenging journey.
Tourist Attractions in Rohtang Pass: River Rafting in Manali, Skiing in Manali, Paragliding in Manali, Trekking in Manali, Zorbing in Manali, Hadimba Devi Temple, Gulaba, etc
The best season to visit Rohtang Pass is May to October. Rohtang pass best time to visit for bikers is the month of August, according to reliable sources. This is when tourists can comfortably take up activities like mountain biking, skiing, and snow scooter riding at the famous Snow Point.
Mashobra – Shimla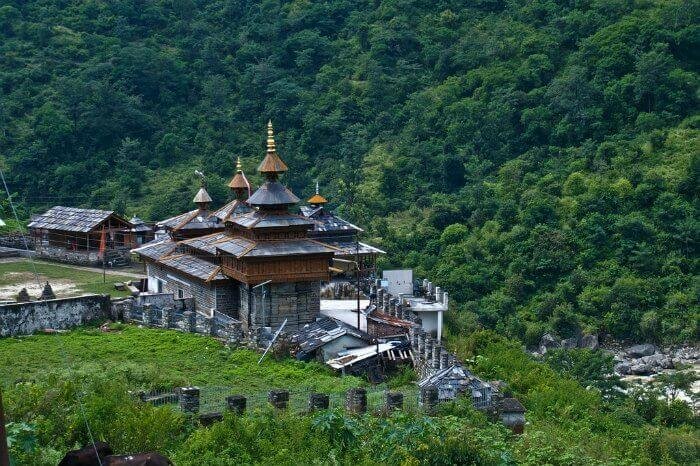 Mashobra was engineered by Lord Dalhousie within the eighteenth century. it's found within the biographies of girl Mountbatten and girl Edwina. Nehru, the then Prime Minister, paid a visit to Lord Mountbatten, the Viceroy and also the governor of Bharat, and his woman girl Edwina. Before 1948, Mashobra accustomed house one in all the sole 2 Presidential retreats in Bharat. the opposite Presidential retreat is Rashtrapati Nilayam in Secunderabad. Mashobra is visited by the President of Bharat per annum and through that amount the most workplace shifts to the retreat at Chharabra. The building of the Presidential retreat could be an utter picket structure originally made in 1850. The Wildflower Hall at Chharabra was the residence to Lord Herbert Kitchener similarly as Lord Ripon throughout country dominion, currently a property of Oberoi Hotels. nowadays Mashobra could be a well-known tourist's destination Sitting at an associate altitude of 2500 meters, Mashobra is another fashionable travel destination in Himachal that boasts of a beautiful natural scenery comprising of thick forests, stunning fruit orchards, splendid mountain range views, and a happy climate during the year.
Nahan
The impressive and alluring hamlet of Nahan, nestled amidst the snow-shrouded Shivalik Range of Himalayas, is one of the best-kept secrets of Himachal. Away from the hustle-bustle of the crowded cities, this little hamlet is endowed with a stupendous natural scenery, a perfect climate and to top it all, a dreamy and romantic ambiance which undoubtedly, lends it with an unrivaled appeal of an ideal honeymoon destination. Taking a little glimpse at this hill town's history, it was founded by Raja Karan Prakash in 1621 as his summer capital. Under his reign, Nahan was bestowed with a number of temples and a man-made lake that today, proudly contribute to the list of major tourist attractions in the city. Start your itinerary in the town by visiting the beautiful 'Rani Tal', an artificial lake sitting right in the city center.
A great draw for visitors, the lake is sure to leave you enchanted with its tranquil charm dotted with lush lawns and an old Shiva temple; spend a wonderful day here, picnicking and boating or just taking in the gorgeous scenery. The quaint town of Nahan has also been blessed with the natural and stunning 'Renuka Lake'. Considered to be the largest lake in Himachal, it is yet another scenic retreat for people looking for utmost peace and serenity. The lake is well-known for its ancient temple dedicated to Goddess Renuka, which is again, visited in great numbers by tourists and locals alike.
Kaza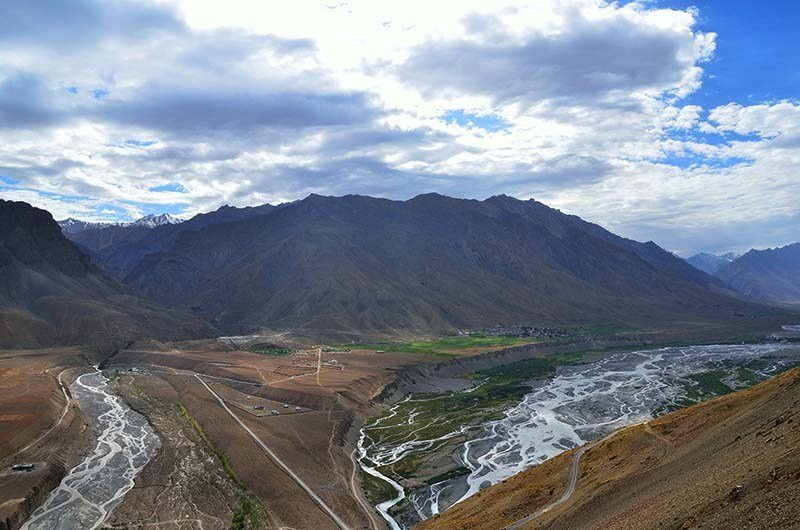 The capital and body headquarters of the Spiti vale in Himachal Pradesh, Kaza boasts of jagged mountain peaks embellished with snow embellished crowns and crystal clear rivers & streams. The barren splendor of this bucolic hill city, interspersed with tiny patches of inexperienced, are a few things that have you with a very different image of a hill station, that otherwise usually are drenched lush foliage. a particularly difficult mountainous tract of the region, unneeded to mention, provides for an ideal setting to older trekkers and hikers venture on a trekking expedition unrivaled; 'Pin-Parvati', 'Parang-La', 'Kunzum Pass', 'Chandratal' and 'Pin-Bhaba' are a number of the favored trails that start from Kaza.
Aside from trekking, once in Kaza, dare-hearts can even indulge themselves within the vasoconstrictor pumping journey of watercourse rafting over the roaring waters of the 'Spiti River'; the robust rapids of this mighty watercourse are certain to leave you with disagreeable expertise to be remembered for the life. And if journey activities in Kaza ar an excessive amount of to handle for your sorts, you'll be able to simply prefer quiet nature walks around pristine villages of 'Kibber', 'Komic', 'Demul' and 'Dhankar'.
Naldehra – Shimla
Situated at a distance of 22 Km from Shimla, Naldehra is a beautiful paradise for nature lovers and adventure seekers. Naldehra is home to a nine-hole golf course and is considered the oldest golf course in India. Naldehra is said to have derived its name from the Nag temple, set inside the golf course. Mashobra Naldehra and Tattapani are on the same route so all the three places are covered in one go by the tourists in general. Walking on its wooded hills with the company of only birds, and a few monkeys is a truly rejuvenating experience. If you love trekking, Naldehra wouldn't disappoint you. Go to Mashobra for setting out on a gentle trek to Craignano. Named after an Italian Countess, this place was a summer retreat. It is surrounded by forests, orchards, and gardens full of multi-colored flowers.
Tourist attractions in Naldehra: Tattapani, Mahunag Temple, The Mashobra Valley Trek, River Rafting, Fagu, Narkanda, and Shimla.
Best Time To Visit Naldehra: March to June and from October to February.
Bir and Billing in Kangra
Known as the 'Paragliding capital of India', the towns of Bir and Billing in Kangra district are extremely popular places for adventure sport. Bir Billing Hosted Paragliding World cup in 2015. This was the "First Paragliding World Cup of India." Most of the operators provide the paragliding services in Bir Billing round the year after taking into consideration the conditions of weather, however, the months from September to November are considered as the best months for enjoying the fun of aero sports in Bir Billing. Paragliding is his passion and he knows all the wind trends of Bir Billing Valley. Bir Billing considered best and safest destination for paragliding in worlds.
Best Time to Visit: March to May before the monsoon and September to November.
ACTIVITIES TO DO IN BIR BILLING: Paragliding, Visit Sherab Ling Monastery, Hand Gliding, Enjoy Bir Tea Factory, Deer Park Institute, Attend Events, Bir Billing Camping, Tashijong, etc
Kinnaur Kelash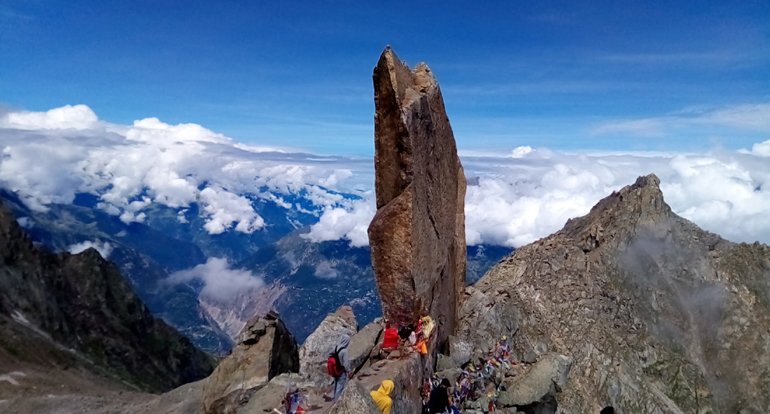 Considered as one of the most challenging treks, the path leading to this mountain is certainly not an easy one and not everyone's cup of tea. Trek to Kinner Kailash (4,650 m) is a spiritual trek in Kinnaur district of Himachal Pradesh. Reckong Peo is the nearest town from the base camp. Trek length of Kinner Kailash is 17 km (one-way). It is also among the remotest and the less explored regions of Himachal which is breathtakingly scenic. Apart from this, the trek will take you to the heart of one of the most mythical abodes of Lord Shiva, with a 79 feet vertical rock located at a height of 4,650m (15,255ft) in the Kinner Kailash mountain range. This vertical rock changes its colors many times a day. In addition to this, 90% of the trek is steep and will test your physical and mental endurance.
This pass is considered as sacred by both Hindu and Buddhist Kinnauris. The entire trek path is endowed with lush green valleys, orchards, vineyards snow-clad peaks and cold desert mountains. This trekking tour will take you to the land of fairy tales from where you can have a stunning view of cold desert mountains, winery snow-clad peaks, lush green valleys and fields of beautiful orchard flowers. Best season to visit this trek is between Mid May to September. For more info:
Best Places to Visit in Kinnaur Kelash: Kinner Kailash Circuit Trek, Nako Lake, Baspa River, Sarhan, Sangla Valley, Kalpa, Ribba, Borasu Pass, Kamru Fort, Recong Peo, Lipa-Asrang Sanctuary, Rupin Pass, etc
Shrikhand Mahadev
The Shrikhand Mahadev trek is a pilgrim trail that leads to the Shrikhand Mahadev peak (5,227 meters/17,150 ft), named after Lord Shiva. Devotees of Lord Shiva visit at the top of the mountain where there is a small shrine of Lord Shiva. Devotees trek to the peak during the main pilgrimage season of July and August. Shrikhand Mahadev is actually a pilgrimage place for Hindus. Shrikhand Mahadev is a rock-made natural shiva lingam on the great heights of mountains in the Himalayas. The shiva lingam is 70 feet high and stands at the mountain top around 19,000 ft altitude.
Come monsoon and mountain lovers and pilgrims ready themselves to undertake treks and pilgrims, as that is the best time to scale mountains. While lakhs brave the tough hilly terrain to reach Amarnath in Jammu and Kashmir, thousands undertake the strenuous trek to 5425-meter-high Shrikhand peak, which is known as the Kailash of Himachal Pradesh. It is a 76-km two-way track passing through dense forests, water streams, sprawling meadows, and lofty mountains. The climb is difficult but it offers a panoramic view. It is an approx 70-km two-way track passing through dense forests, water streams, sprawling meadows, and lofty mountains. The climb is difficult but it offers a panoramic view. The peak, called Shrikhand Mahadev by locals, is located in Shimla district. For More Info: 
Best Time to Visit Shrikhand Mahadev: Mid May to September.
Parwanoo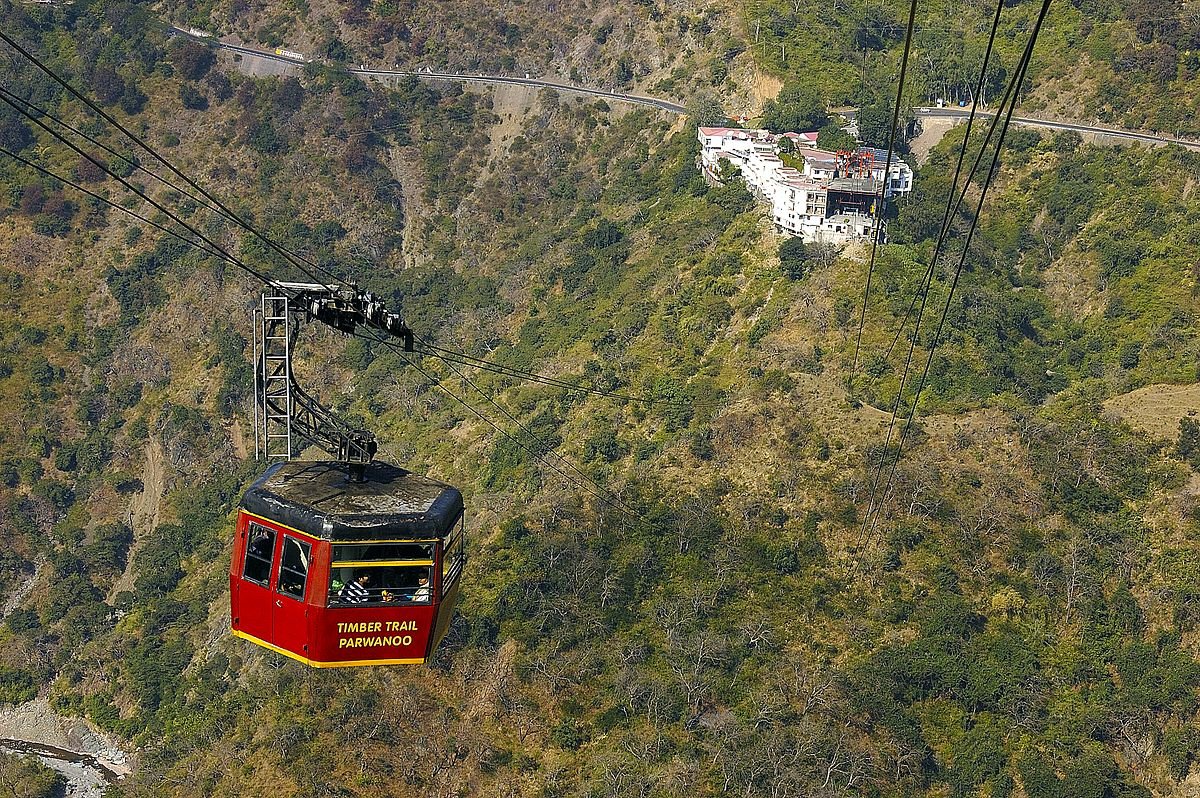 Gorgeous fruit orchards, bountiful scenic beauty, and a serene ambiance simply to relax and unwind yourselves from the strain of standard of living, Parwanoo is an associate idyllic destination in Himachal that lures uncountable tourists each summer. settled in shut proximity to Chandigarh, the sight of newly-wed couples and chooda-clad ladies UN agency typically return here over weekends, is kind of common. whereas there aren't several activities to try to in Parwanoo, you'll be able to simply reveal yourself during a pristine aura of the place, opt for a walk across the fragrant fruit gardens or absorb the scenic beauty sitting within the cabin of the compartment go past the 'Timber path Resort'. And just in case you want for nonsecular expertise, pay a visit to the extremely revered 'Mansa Hindu deity Temple' settled on associate elevated hillock; not solely is that the ambiance at the tip serene and divine, the views of the city below are breath-taking too.