In this post, we are discussing the hill stations of Himachal Pradesh. Himachal is a hilly region and there are many hill stations that you can visit. The top hill stations of Himachal are Lahaul Spiti, Kullu-Manali, Shimla, Dalhousie, Kinnaur, Kasol, Bir, and Mcleodganj. In this post, we will tell about all the hill stations of Himachal. Himachal is a favorite destination for honeymooners, trekkers, wildlife enthusiasts, adventure freaks, and casual holiday seekers. People from all over the country come to Himachal to escape the intolerable rising temperatures in the plains during the summer months.
Hill Stations in Himachal Pradesh:
The top best hill stations in Himachal Pradesh are Lahaul Spiti, Kinnaur, Narkanda, Shimla, Solan, Sirmaur, Chamba, Dalhousie, Kasol, Kullu Manali, Dharamshala, and Mandi Parashar Lake, etc. We have discussed all the hill stations in the article below.
Lahaul and Spiti:
During the winter months, the roads leading to Lahaul get completely frozen and blocked by snow, making travel difficult. Lahaul Spiti can be visited between May to September. Visiting Lahaul Spiti is the dream of many people as the place is very lovely and serene. The beauty of this place attracts people from all over the country and this place is popular among trekkers and nature lovers.
Tourist attractions in Lahaul and Spiti: Deepak Tal Lake, Surajtal Lake Tabo Monastery, Ki Gompa, Kaza, Kibber, Chandratal Lake, Kunzum Pass, Triloknath Temple Dhankar Gompa, and Pin Valley National Park.
Best time to visit Lahaul: May to September
Mcleodganj – Land of His Holiness the Dalai Lama
Mcleodganj is a hill station in Dharamsala, a favorite destination for trekkers and nature lovers. Mcleodganj is home to the Tibetan people, where their culture is seen and people from all over the country come here as it is also the home of the Dalai Lamba. The beautiful litigants here have made this place a favorite place of the people. Many people come here to visit in summer. There are many other places around Mcleodganj that you can visit.
Best time to visit Mcleodganj: March to June
Manali – India's Honeymoon capital
Manali is a very famous place in India where people from all over the country come to visit and many people also come here to celebrate their honeymoon. People from the plains come here to visit more and more, for them this place is heaven. A fair is held here in summer. People from all the plains around Himachal Pradesh come to visit Manali. It is really very beautiful, if you move a little further from Manali towards Lahaul then you can enjoy it even more.
Tourist attractions in Manali: Hadimba Temple, Rohtang Pass, Atal Tunnel, Beas River, Tibetan Monastery, Vashisht Hot Spring, Nehru Kund, Solang Valley, Gulaba, Mall Road, etc.
The best time to visit Manali remains throughout the year, it is better if you do not go during monsoon time from July to September.
Prashar Lake – Mandi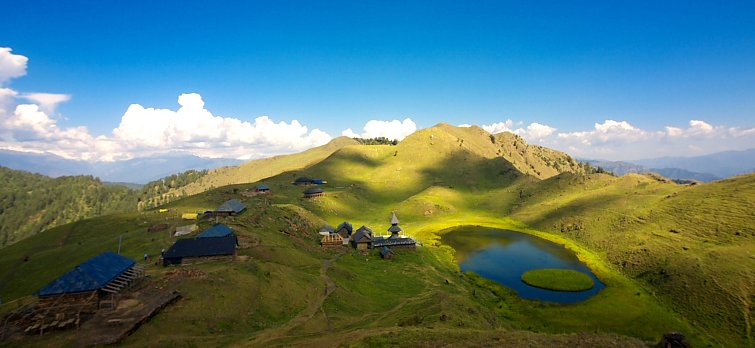 Parashar Lake is situated at a distance of about 55 kilometers from Mandi. The route will be Mandi-Bijani-Kamand-Baggy-Prashar Lake. The condition of this road will largely depend on the timing of your journey. There are many places to visit in Mandi, but the Parashar Lake trek is one of the most famous trek routes in the region. If you visit here during monsoon, then the journey can be a bit difficult. But when you reach Parashar lake, your tiredness goes away. This place is very beautiful, the valleys here attract a lot of people. It will take you around 2.5 to 3 hours to reach Parashar Lake from Mandi.
Best time to visit Parashar Lake: September to December.
Dalhousie – Mini Switzerland of India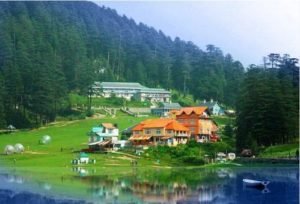 Dalhousie is a very popular place in Chamba where people from all over the country come to visit. Dalhousie is one of the most famous hill stations in Himachal Pradesh and is visited by thousands of people every year in summer. To enjoy, enjoy boating in Chamera Lake, Kalatop Wildlife Sanctuary, Chamunda Devi Temple, and many other things that you can enjoy a lot.
Here are some of the best places to visit in Dalhousie: Khajjiar, Chamera Lake, Panchpula, Dainkund Peak, Satadhara Falls, St. Patrick's Church, Sach Pass, Laxmi Narayan Temple, Bara Pather, Tibetan Bazaar, Ganji Pahari, Rang Mahal, and Kalatop Wildlife Sanctuary.
Best Time To Visit: Throughout the year.
Barog – Beautiful Hill Stations, Shimla-Kalka highway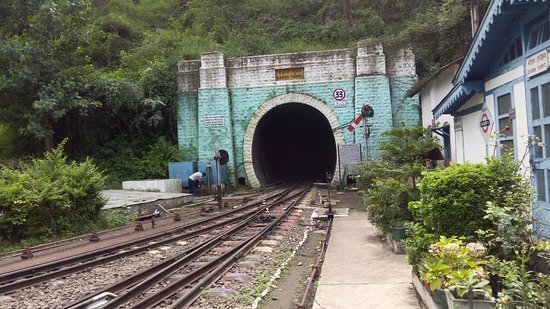 On this website we have also written about the history of Barog, if you are interested then you can read it. Barog is now a full-fledged hill station. It is situated in the Solan district of Himachal Pradesh and is a special place for the people of this place to enjoy and enjoy trekking. You can visit this place anytime. These places can be very special for the trekker.
Places of Interest: Barog Railway Station, Dagshai, Solan, Dolanji Bon Math, Solan Brewery, Jatoli, Chur Chandni, etc.
Best Time To Visit Barog: You can visit Barog throughout the year.
Chail – Solan
Chail is a picturesque hill station that is a great place to relax and spend some time close to nature. The palace was built in 1893 as a summer retreat by the Maharaja of Patiala during the British Raj. Since then this place has become a favorite destination for nature lovers. Chail is connected to Solan as well as Shimla district headquarters. It is 49 km from Shimla and 38 km from Solan. It is a beautiful and peaceful place amidst dense forests, there are many nice places to visit here.
Best places to visit in Chail: Kali Ka Tibba, Cricket Ground, Chail Wildlife Sanctuary, Gurudwara Sahib, and more.
Best Time To Visit Chail: Chail has a special charm throughout the year.
Manimahesh Lake: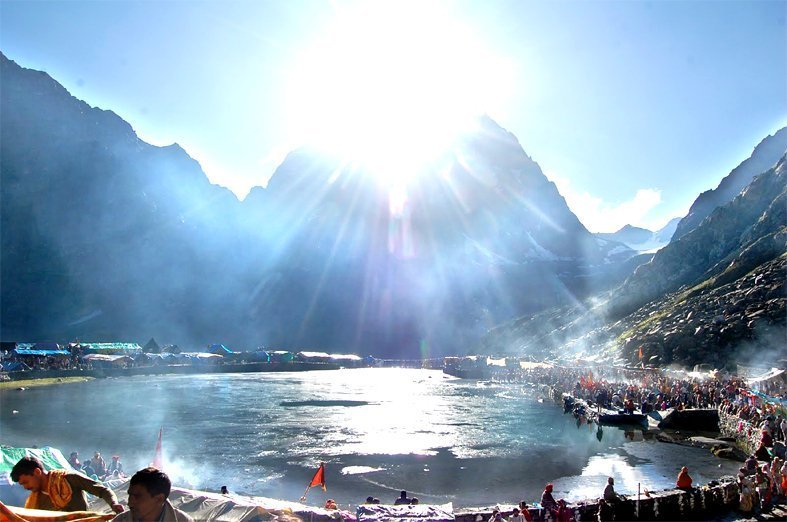 We have explained Manimahesh Lake in detail in a blog on this website. Manimahesh Lake is situated at a distance of twenty-six kilometers from Bharmour in the Budhil valley, which is one of the major pilgrimage centers of Himachal Pradesh. It is situated at an altitude of 4,080 meters. Manimahesh literally means "Ornaments of Shiva". Thousands of Hindu pilgrims visit Manimahesh every year. Before the main yatra in late August or September, a fair is held at Bharmour in which the yatra is performed by villagers and other pilgrims.
Tourist attractions in Manimahesh Lake: Siddha Baba Temple, Marali Mata, Keylong Wazir, Bharmour, Chamba Himachal Pradesh
Best time to visit Manimahesh Lake: August to September.
Sangla Valley – Kinnaur
Sangla Valley One of the most attractive valleys in the entire Kinnaur district, Sangla Valley is a serene retreat away from the hustle and bustle of the city. It is named after a beautiful village of the same name. Here trekkers and nature lovers can spend some time in peace away from the crowd and enjoy watching the flora and fauna of the valley. There are other beautiful places in Kinnaur where you can spend the best of your time.
Things to do in Sangla Valley: Camping, sightseeing, adventure activities, treks, there is a monastery nearby that you can visit. Kamru Fort, Kamakshi Devi temple.
Best time to visit Sangla Valley: is September to August.
Kufri – Shimla
Kufri is a very beautiful hill session of Shimla where you can enjoy it completely. It is located 20 km from the capital Shimla. Travelers visit Kufri in winter to enjoy skiing and tobogganing on the snow-capped slopes. There is also Adventure Sport in Kufri which you can enjoy to the fullest. A yak ride is one of the most interesting things to do while visiting Kufri in winter. There are so many places in Shimla where you can fully enjoy yourself a lot.
Tourist Attractions: There are many picnic spots, and hiking, and trekking trails in and around Kufri. Other places to visit in Kufri are the Himalayan Nature Park, which houses a collection of animals and birds found only in Himachal Pradesh, and the Indira Tourist Park.
Best Time To Visit Kufri: All Year Round.
Kasauli – Solan
Kasauli is a small hill town situated in the Solan district on the way from Chandigarh to Shimla. The cantonment town, established during the British era, is now a favorite destination for weekend trips and short retreats. People from Chandigarh and nearby areas come here to visit on weekends. Here you can enjoy the beautiful litigants, it is a very peaceful place. Monsoon is not the right time to visit other places, especially in Himachal and this time is considered best in Kasauli. During the months of July, August, and September, Kasauli is thronged by tourists.
Places to visit in Kasauli: Timber Trail, Monkey Point, Sunset Point, Lover's Lane, Mall Road Kasauli, and Gurudwara Shri Guru Nanak Ji.
Best time to visit Kasauli: Monsoon is the best season to visit Kasauli.
Kasol – Kullu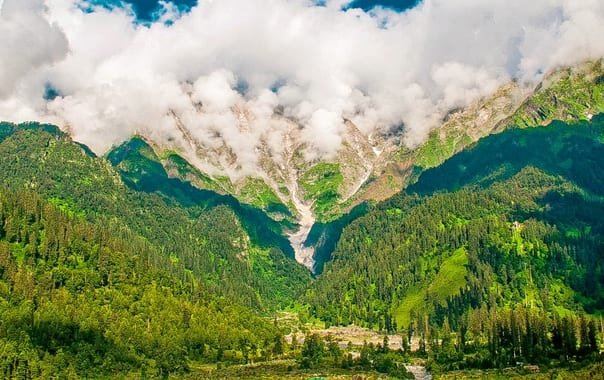 Kasol is a village in the Kullu district of the Indian state of Himachal Pradesh. Kasol is a picturesque village with traditional wooden houses with sloping stone roofs. It is situated in the Parvati valley on the banks of river Parvati between Bhuntar and Manikaran. It is located 30 km from Bhuntar and 36 km from Kullu city. Due to the high percentage of Israeli tourists here, it is called Mini Israel of India. May June is the best time to visit Kasol for night-long parties and music festivals.
Places to visit in Kasol: Kheerganga, Chalal, Pin Parvati Pass Trek, Malana, Tosh, Rasol, Manikaran Sahib, Bhuntar, Pulga Village, Naggar Village.
Rohtang Pass – Manali
In this post, you can know about the top beautiful places in Himachal Pradesh. Rohtang Pass in Manali is considered one of the best places to visit in Himachal. The pass is open from May to November. Rohtang Pass is situated at an altitude of 3980 m on the Keylong Highway, about 51 km from Manali. This pass is an ancient trade route between peoples on both sides of Pir Panjal. The Puranic name of this pass was the citation desired pass. This hill slope is so beautiful that people from every corner of the country come to this place to participate in adventure sports like skiing, ice skating, paragliding, etc. There are many passes in Lahaul and Spiti, including Kunjam La, Baralacha La, etc. It is said that this is considered to be the oldest pass in the region. Adventurers and biking enthusiasts cross slippery roads to reach Rohtang Pass from Manali.
Tourist attractions in Rohtang Pass: River rafting, skiing, paragliding, trekking, zorbing, Hadimba Devi Temple, Gulaba, etc.
The best season to visit Rohtang Pass is from May to October. August is the best time for bikers to visit Rohtang Pass.
Mashobra – Shimla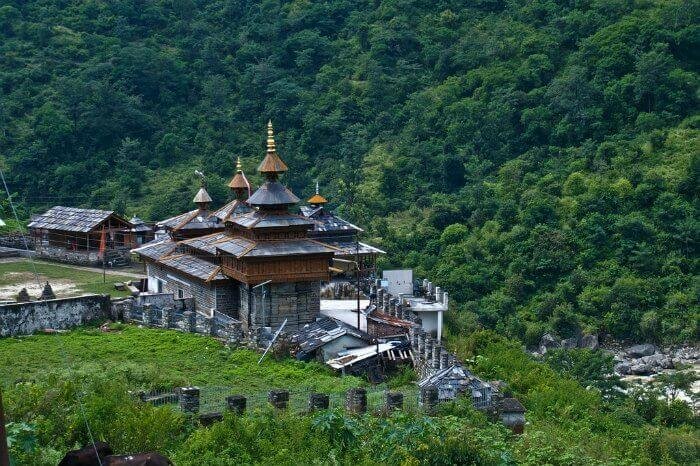 Mashobra is a town in the Shimla district of Himachal Pradesh. This is a very lovely place, if you have come to visit Shimla, then definitely visit Mashobra. Wildflower Hall in Chharabra was Lord Herbert Kitchener's residence, currently a property of the Oberoi Hotels, similar to Lord Ripon's Lordship of the Country. Mashobra is a lovely and beautiful town in Himachal Pradesh situated amidst dense forests, amazing fruit orchards, and majestic mountain ranges.
Mashobra is notable for housing one of the two presidential retreats in India. The other retreat is Rashtrapati Nilayam in Secunderabad. The President visits Mashobra at least once every year, and during this time his main office is moved to a retreat in Chharabra, around Mashobra. The retreat building is an entirely wooden structure originally built in the 1850s. In May 1948, Lord Mountbatten and his wife Lady Edwina spent a few weeks at this retreat, before returning to London at the end of their mission as Viceroy and then Governor General of India. The then Prime Minister Jawaharlal Nehru met her, which is documented in Lady Mountbatten's biography.
Nahan – Sirmaur Himachal
Nahan is a very lovely town, it comes in the Sirmaur district and is also the headquarter of Sirmaur. Nahan is a very calm and beautiful city. The beautiful 'Rani Tal' is an artificial lake inside Nahan city where you can spend the best of your time. And picnic can also be celebrated here as it is a very peaceful place. Rani Tal allures you with lush green lawns, boating, and an old Shiva temple. The people of Nahan consider this place to be the best place to visit and meditate. You can also visit the wonderful 'Renuka Ji Lake', a little far from Nahan. Considered to be the largest lake in Himachal, this is another must-visit place for those who are in search of utmost peace and tranquility.
Best Places to visit in Nahan: Renuka Ji Lake, Suketi Fossil Park, Gurudwara Paonta sahib, Trilokpur Temple
Best Time to Visit Nahan: Throughout the year!
Kaza- Spiti valley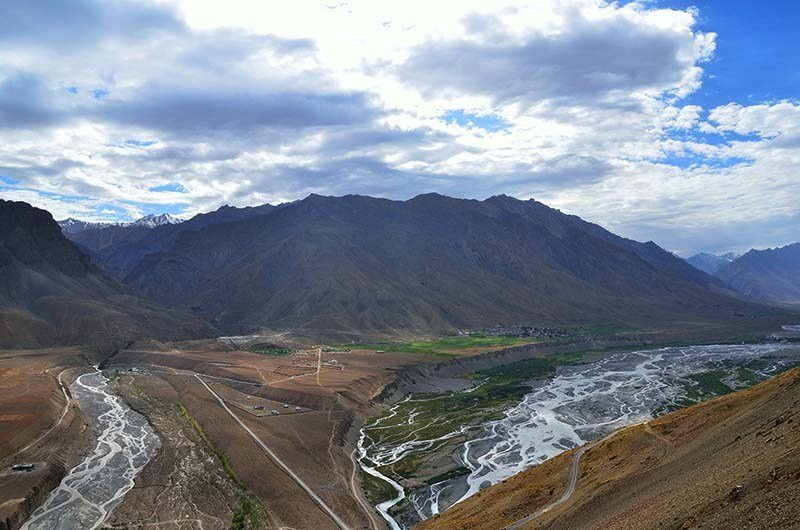 Kaza is a town and headquarters of Spiti Valley in Lahaul and Spiti district in the northern Indian state of Himachal Pradesh. Spiti is a cold desert, with an altitude of 3,650 meters above sea level. High mountain peaks are visible from Kaza. Kaza can be reached by two routes, one from Kinnaur Valley and the other from Lahaul Valley. The road, starting from Shimla, follows the Sutlej River a little further east, then turns north and follows the Spiti River to Kaza. The other road starts from Manali and crosses the high Rohtang Pass which connects to Keylong and climbs up to cross the Chandra River. and the higher Kunzum Pass enters the Spiti valley to reach Kaza. Kaza is one of the oldest cities in India. January is the coldest month with an average temperature of -25 °C and July is the warmest month with an average temperature of 10 °C. Both these roads remain closed in winter due to snow.
Best Places to Visit Near Kaza: Key Monastery, Kunzum Pass, Dhankar Lake, Chandratal Lake, Komic Village, Pin Valley National Park, and Dhankar Monasteries.
The best time to Visit: is May to October!
Naldehra – Shimla
You can book a hotel stay in Naldehra, or else you can travel during the day. Whatever place is found around Shimla, will be a place to entice the heart. Because wherever you go beyond Shimla, you will get to experience very beautiful places. Naldehra is situated at a distance of 22 kilometers from Shimla. Naldehra is a beautiful paradise for nature lovers. Naldehra also has a nine-hole golf course, which is believed to be the oldest golf course in India. Naldehra is said to have derived its name from the Nag temple. Mashobra, Naldehra, and Tattapani are on the same route so all three places get covered with tourists together. If you love trekking, then head to Mashobra by completing a gentle trek from Naldehra to Cregnano.
Tourist attractions in Naldehra: Tattapani, Mahunag Temple, Mashobra Valley Trek, River Rafting, Fagu, Narkanda, and Shimla.
Best Time To Visit Naldehra: All year round!
Bir and Billing in Kangra
Bir and Billing in Kangra Known as the 'Paragliding Capital of India', the cities of Bir and Billing in Kangra district are extremely popular destinations for adventure sports. Bir Billing hosted the Paragliding World Cup in 2015. It was "India's First Paragliding World Cup". Most of the operators offer paragliding services in Bir Billing keeping in mind the weather conditions, however, the months from September to November are considered best to enjoy aerial sports in Bir Billing. Bir Billing is considered to be the best and safest place for paragliding in the world.
Best time to visit: March to May and September to November, before the monsoons.
Activities to do in Bir Billing: Paragliding, visiting Sherab Ling Monastery, hand gliding, enjoying Bir Tea Factory, Deer Park Institute, participating in events, Bir Billing camping, Tashijong, etc.
Kinnaur Kelash – Kinnaur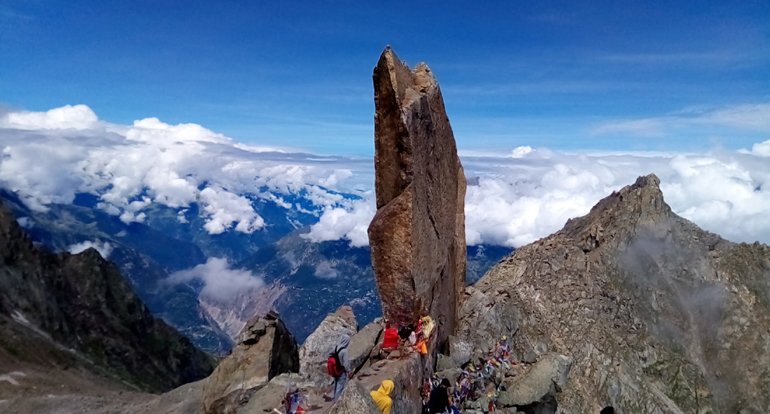 Considered to be one of the most challenging treks to Kinnaur Kailash, the trek to this mountain is certainly not an easy one and not for everyone. The Kinner Kailash Trek is located in the Kinnaur district of Himachal Pradesh at an altitude of 4,650 meters. The trek length to Kinner Kailash is 17 km (one-way). Moreover, when the trek will take you to the height of the Kinner Kailash mountain range, you will have the darshan of Lord Shiva along the sheer cliff and your tiredness will vanish. , This steep rock changes its color several times a day. Also, 90% of the trek is steep and will test your physical and mental stamina. Considered sacred by both Hindus and Buddhists, Kinnauris. The entire trek path is blessed with lush green valleys, orchards, vineyards with snow-capped peaks, and cold desert mountains. The best season to undertake this trek is from mid-May to September.
Best places to visit in Kinnaur Kailash: Kinnar Kailash Circuit Trek, Nako Lake, Baspa River, Sirhan, Sangla Valley, Kalpa, Ribba, Borasu Pass, Kamru Fort, Reckong Peo, Lipa-Asrang Sanctuary, Rupin Pass, etc.
Shrikhand Mahadev – Kinnaur
Shrikhand Mahadev Trek is a pilgrimage route to the peak of Shrikhand Mahadev at an altitude of 5,227 meters and is named after Lord Shiva. Devotees visit the summit during the main pilgrimage of July and August. Shrikhand Mahadev is actually a pilgrimage center for Hindus. Shrikhand Mahadev is a natural Shivling made of a rock at the height of mountains in the Himalayas. The Shivling is 70 feet high and is situated on the top of the mountain at an altitude of about 19,000 feet. With the onset of the monsoon, mountain lovers and pilgrims prepare themselves for treks and pilgrimages. Thousands of people undertake the arduous journey to the 5425 m high Shrikhand peak, known as the Kailash of Himachal Pradesh. It is a 76-kilometer two-way track passing through dense forests, water streams, vast grasslands, and high mountains. The climb is tough but Lord Shiva makes it easy for the devotees. That's why so many people are able to visit every year. Otherwise, going to such heights is not a game.
Best Time to Visit Shrikhand Mahadev: Mid-May to September.
Parwanoo – Solan Himachal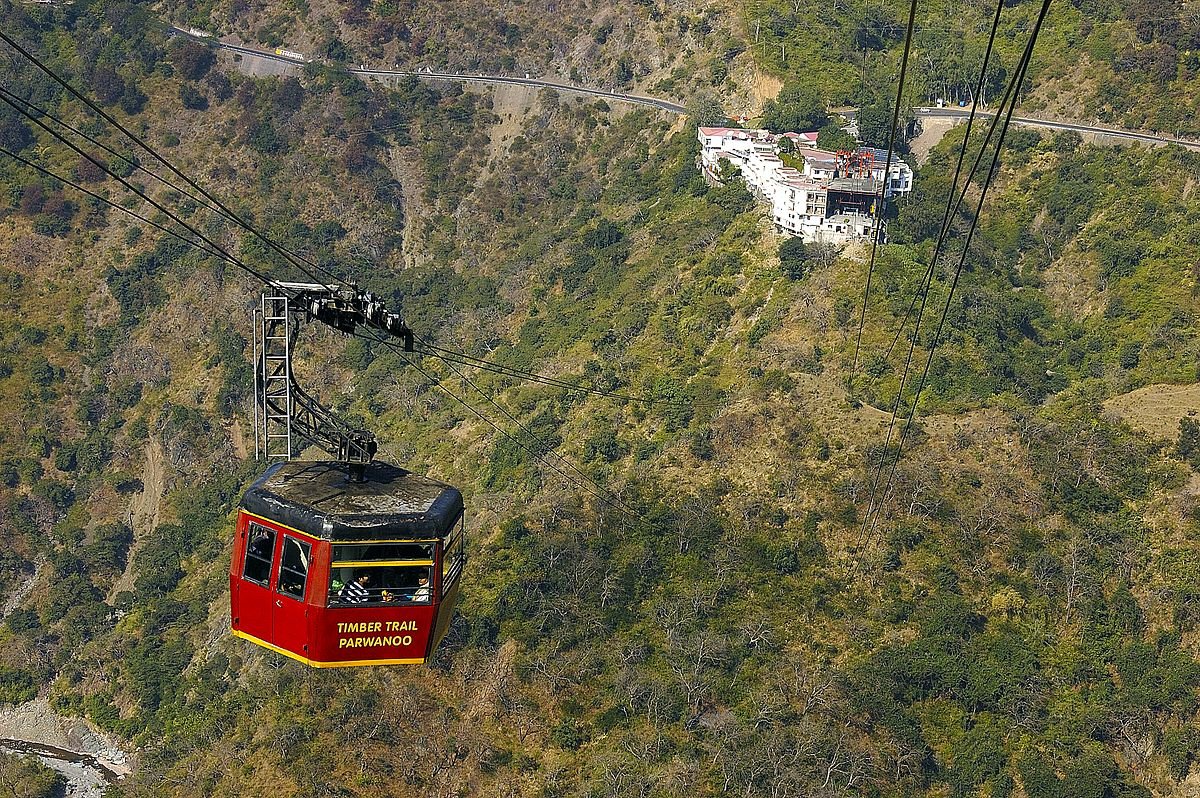 Parwanoo is the Hill Stations In Himachal Pradesh. Parwanoo is a municipal council and an industrial city in Solan district in the Indian state of Himachal Pradesh. It is the biggest wholesale market in Himachal. It is on the border of the Panchkula district of Haryana. It takes a while to go from Pinjore to Parwanoo and there is also a road from Pinjore to Baddi. Baddi is another nearest industrial city to Himachal. There is a very famous place to visit in Parwanoo which is called Timber Trail. It is situated a little ahead of Parwanoo on the Chandigarh Shimla Highway. People come from far and to visit this place. You can take a view of the beautiful fields and mountains by sitting on a Timber Trail. It is great to see beautiful mountains and lush green forests from such a height. Sitting on the Timber Trail, when you go to the high mountain, there you see Mata Mansa Devi. So you too can make good memories by visiting this place.