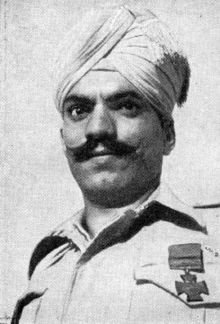 Subedar Major and Honorary Captain Bhandari Ram were born on 24 July 1919 in Pargna Gugeda Village Bilaspur, Himachal Pradesh. He was born into a Brahmin family. There was no school near his house. The school that was there was in Bilaspur city. Due to the long distance between school and home, they could not go to school. His father's name was Nihaala Ram. In 1950 Bhandari Ram married Champa Devi. And They Had three sons and two daughters. She lived with her children.
Captain Bhandari Ram Army Career
On 24 July 1941, his birthday, at the age of 25, he was enlisted in the Baloch Regiment. The Baloch Regiment was a British Indian Army. Which was formed in 1922 and went to Pakistan in 1947. Captain Bhandari Ram was fighting against the Japanese forces in the Burmese campaign during World War II. On 22 November 1944, a bunker was to be conquered during the Japanese invasion of East Mau. Captain Bhandari Ram was part of the troop. His troops had to climb a slope and wade through a narrow river bank to reach there. When they reached a distance of 50 yards from the peak, the Japanese force started firing. And during the firing, he was injured in his shoulder and leg.
Still, under fire, he crawled about fifteen yards to the machine gun and was wounded when the enemy lobbed grenades at him. But in wounded condition, he threw a grenade at the feet of the enemy and killed three soldiers. And then his platoon moved forward and took the position. His courage and determination to eliminate the enemy at all costs helped his platoon win. And he won the Victoria Cross.
Promotion
He was promoted to the rank of Subedar on 13 May 1958. After World War II, he continued to serve in the Indian Army. And on 30 March 1967, he got one more promotion and became Subedar Major. He retired from the Indian Army in August 1969 with the honorary rank of Captain. And he was also awarded Param Vishisht Seva Medal and many streets are named after him. He died on 19 May 2002 in his hometown Auhar at the age of 82.
Awards
Victoria cross
Param Vishisht Seva Medal
General Service Medal 1947
Raksha Medal
War Medal 1939-1945
9 Years Long Service Medal
Burma Star
India Service Medal
1939–45 Star
Queen Elizabeth II Coronation Medal
Queen Elizabeth II Silver Jubilee Medal
Queen Elizabeth II Golden Jubilee Medal