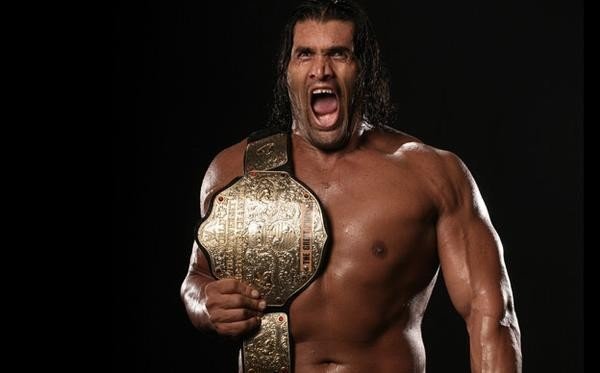 Dalip Singh Rana was born on 27 August 1972 in Dhiraina village of Sirmour district of Himachal Pradesh. He was born into a Rajput family. His father Jwala Ram is a farmer and his mother Tandi Devi was a homemaker. Rana is a retired Indian professional wrestler. People also know him by the name of The Great Khali. He became the first Indian-origin WWE World Heavyweight Champion. And also known for his tenure in WWE. Dalip Singh became famous all over the world after winning the World Heavyweight Championship in 2007.
The Great Khali Early Life
Rana was born and brought up in a Rajput family. Dalip parents are farmers and he has 6 siblings. His mother died on 20 June 2021 in Ludhiana. His father still lives in his village Dheeraina, Sirmour. Dalip Singh Rana grew up with little education and used to do menial daily wages to support the family. After some time he went to work as a security guard in Shimla. There Dalip's eyes fell on a police officer from the neighboring state of Punjab. He had earlier helped many Punjab Police personnel to become international players. He offered Dalip Singh Rana to join the Punjab Police.
But Rana was not happy to leave Himachal. He offered the same to Duleep's brother and accepted it. Later Dalip also went to Punjab with him. And there he trained at the local gym to become a wrestler. He was soon selected for specialized wrestling training in the United States. Dalip suffers from a disease called acromegaly, which causes a large and prominent chin, among other symptoms.
Professional Wrestling Career
Before Singh started his professional wrestling career, he was an assistant sub-inspector of the Punjab Police. Dalip Singh Rana moved to America in 1999. And there he joined the All Pro Wrestling (APW) boot camp as a trainee. Under the ring name The Giant, he first became a professional wrestler for All Pro Wrestling (APW) in the United States. And he made his wrestling debut on October 7, 2000, teaming with Tony Jones against the West Side Pledges. In May 2001, he also trained with Brian Ong. After this Rana moved to San Francisco. There he signed a contract with World Championship Wrestling (WCW). There he spent eight months.
Rana also used the Giant Lion gimmick in New Japan Pro-Wrestling (2001–2002) (NJPW). He received an offer from Giant Silva, led by Masahiro Chono. He made his professional wrestling debut with an average height of 7 feet 1 inch and a combined weight of 805 pounds. They were the longest tag team in history.
On October 8, 2001, he defeated Yutaka Yoshie, Kenzo Suzuki, Hiroshi Tanahashi, and Wataru Inoue in his debut match for the first time in Tokyo Dome. The pairing ended when Silva turned on Singh and defeated him in a singles match in August 2002. In January 2002, Duleep was defeated in a tag team match at Wrestling World 2002. Singh also worked with Tommy Dreamer, 'Slaughter Boys' and Palmer Cannon. , He took the name of the Hindu goddess Kali after winning a wrestling match, and since then he has been named The Great Khali. Because the people were heard so. And since then Dalip Singh Rana is known as The Great Khali.
WWE World Heavyweight Championship
Khali interfered in a match between The Undertaker and Mark Henry on the April 7 episode of SmackDown, and he sued Khali for interference and the no-contest ruling. Singh also worked in the 'ECW' brand. On May 21, 2006, Khali comprehensively defeated The Undertaker in their first pay-per-view match at Judgment Day. Over the next few years, he wrestled The Undertaker, John Cena, Shawn Michaels, Edge, Kane, and Randy Orton and became a worldwide celebrity. In the year 2007, he won the 'WWE World Heavyweight Championship' in a 20-man battle royal match. Khali established his own promotion and training academy, 'Continental Wrestling Entertainment' (CWE) in Jalandhar in February 2015.
Television and Movies
He has appeared in two Bollywood and four Hollywood films. Khali appeared in the television reality show Bigg Boss from October 2010 to January 2011. And he became the season four runner-up of the Indian reality TV show 'Bigg Boss'. In March 2011, Khali made a brief cameo in episode 18 of NBC's Outsourced. and appeared in the Disney Channel TV program Pair of Kings as the rock-smashing giant Etog in the episode "Fight School".
Personal Life
He married Harminder Kaur on 27 February 2002. He has a daughter. His name is Avleen. Avleen is born after twelve years of marriage. Rana is very religious, he meditates every day and does not touch things like alcohol and tobacco. On 26 July 2012, Rana underwent brain surgery due to a tumor on his pituitary gland. This resulted in his acromegaly. He displays some of the most obvious symptoms of the disorder, including prominent eyebrows, chin protrusion, and large ears. Khali is a follower of Indian spiritual leader Ashutosh Maharaj. On 20 February 2014, Rana became a naturalized American citizen. He joined the Bharatiya Janata Party on 10 February 2022.
Championships and Achievements
Khali is the first Indian wrestler to win a world title in WWE. He has won a 20-man battle royal. In 2008, he was ranked 83rd on the PWI 500 of the top 500 singles wrestlers. Singh has been awarded the Salemi Prize. Shame Moment of the Year (2008) Khali hosted a Kiss cam on the November 7 episode of SmackDown.